A big thank you to all
of our sponsors!

Interested in becoming a sponsor?


Email: sponsors@memphissoccer.com



Mail Address For RIBS & Rylee's Run 5K:




P.O. Box 38241




Germantown, TN 38183
All proceeds from this weekend will benefit the
March Of Dimes
and the fight against premature birth, birth defects, and infant mortality, as well as the LeBonheur Children's Hospital Neuroscience Institute. Both causes have special meaning to GMSA and several of its members, including Jason & Jessica Vinson. Jason plays in our men's league, and manages Those Guys FC in our coed league; Jessica also plays for Those Guys FC, and has played in our women's league as well. She is also on the staff of our host site, the Mike Rose Soccer Complex. Both have played in GMSA for more than a dozen years, and are familiar faces around the league. Jason and Jessica have shared their stories below.

The story of Sean and Sarah Carlson, and their son Campbell, is also included below. Sarah is the sister of Clay Campbell, who has also played in GMSA for several years as goalkeeper for both the Fire (men's team) and the Outlaws (coed team). Are you a member of the larger soccer community, that has had your family touched by the March Of Dimes? Share your story with us here.


---
Rylee's Story:


There is no truer statement than "life is a gift, never take it for granted". Jason and I learned this valuable lesson to be true when our daughter was born prematurely. When it comes to the birth of a child, it is truly a miracle where you cherish each and every moment.

It was the evening of Wednesday, August 15, 2007 and my water broke. All we were thinking was it's too soon, I'm only 32 weeks. We contacted the on-call nurse and she told us to come to the hospital. We hadn't even packed our hospital bag or went to our birthing class yet. We just grabbed a few things and left with the uncertainty of what was to come. We arrived at St. Francis Hospital Bartlett and immediately the doctor was trying to stop the labor. After much effort, the doctor said this baby is coming.


At 2:24pm on August 16, 2007 our daughter, Rylee Rae Vinson was born. She arrived 7½ weeks premature, but came out kicking and screaming like any normal, healthy baby. Rylee was 3 pounds 14 ounces and 17 inches long. We were all confident that she would be just fine. She looked absolutely perfect. The nurses took her to the NICU within the first few minutes and put her on oxygen. Approximately 48 hours later, the neonatologist informed us Rylee wasn't getting enough oxygen and needed to be put on a ventilator. Jason and I were concerned but she was still hanging in there.

On her third day of life, the doctor felt that she was having severe lung complications and that we needed to transfer her to the NICU at The Med. They had a different type of ventilator that would be gentler on her lungs than a regular one. Rylee was transported by ambulance and all set up on this new ventilator. We never expected any of this to happen to our sweet little girl. We scrubbed into the sterile environment numerous times through the day and night and using sterile foam each time before we touched her. She had blood transfusions, many tests, x-rays and connected to all sorts of wires and machines. We hung on every moment while we waited for the results on the next tests to see if there were signs of improvements.

Sadly, after being on life support for 8 days, Rylee became an angel in heaven. There was so much happening from the very beginning that we didn't understand or that just overwhelmed us. The March of Dimes was there to help us. There was printed material for us to read to find out terminology as well as what happens with preemies while in the NICU. It was a whole support system that helped us through while Rylee was here.

On April 29th, 2010, we were blessed with the full-term birth of our second daughter, Kayden Rylee Vinson. It was a long pregnancy of home rest and weekly injections to prevent premature birth. It was worth every moment as our miracle baby was born 7 lbs 2 oz and was 19 ½ inches long. Her safe arrival was due to the research and medical advances of the March of Dimes with the help of her older sister as her guardian angel.

We are so very thankful for the healthy birth of Kayden and continue to cherish each milestone she reaches. The March of Dimes continues to be there for us with family nights, parent education meetings, etc. To honor Rylee's memory, celebrate Kayden's safe arrival and to repay the kindness we have received, we raise as many donations as possible to give back to the March of Dimes. It is our hope that they are able to continue to help families in our situation, to find a way to prevent prematurity and that "one day, all babies will be born healthy".

---
Kayden's Story: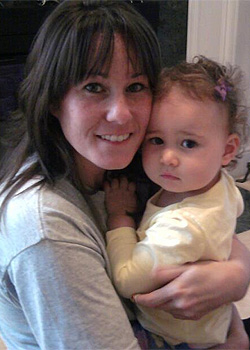 Kayden is now an extremely happy almost 7 year old who loves soccer and gymnastics. She laughs, smiles and brings so much joy to everyone she is around. No one would ever know she has had more than 100 seizures daily for the past five years. This is the story of how LeBonheur is helping Kayden.

When Kayden was about 7 months old, I noticed her slump over really quickly and pop back up. It was as if someone turned a power switch on and off. I thought it was strange and called the Pediatrician's office. The nurse said it sounds like maybe she is tired and just falling asleep. Just keep an eye on her. I was still worried and then when it happened a few more times in the afternoon, I rushed her to the pediatricians office. The doctor was out so the Nurse Practitioner looked at her. Her vitals were all normal and she acted fine. I still didn't feel right about it after we left so my husband and I agreed we would take a video of it if it happens again. Sure enough, that evening after we put her to bed, she woke up and it happened again.

We went straight to LeBonheur and showed the triage nurse the video we took. They took us back immediately and started running several tests. EKG, EEG, spinal tap, blood work, etc. We were so worried and the first thing they told us was that these were seizures. I always thought a seizure was just the convulsive kind. We now know the several different types of seizures and how they can look so different in each person. After being in the hospital for about 5 days full of tests and medications, they sent us ho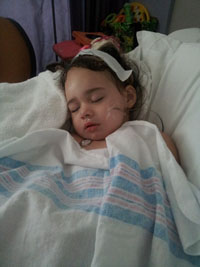 me to start the first medicine of several. Three years later, we have been in the Epilepsy Monitoring Unit at LeBonheur for several days on 6 separate occasions, tried over 12 different medications, blood work every 6-8 weeks to check medication levels and numerous tests (EEG, MEG, MRI, genetic testing, etc).

After the hard work of the doctors at LeBonheur, Kayden has been diagnosed with Generalized Myoclonic Epilepsy. Myoclonic seizures are like twitches or jerks. She also does have atonic seizures at times which are also called drop seizures. We have not been able to find a cause for the seizures. The MRI showed that her brain structure is normal, no lesions or tumors. An amazing test she had in December 2012, was an MEG (magnetoencephalography). There are only 3 of these for pediatrics available in the country. LeBonheur being one of them. It is able to detect within a millimeter of where the seizure activity is located and will show what areas of the brain are being used. Basically, they placed headphones on Kayden to see if the speech area of her brain reacted when she heard speech. It can also see what parts of her brain respond to reflex tests as well. It was very insightful to find out that Kayden has two areas in her frontal lobe that are causing seizure activity.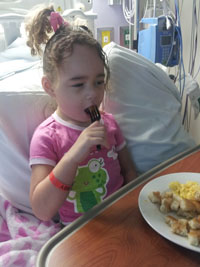 On August 2, 2013 Kayden had brain surgery since her seizures were not getting better through medications and were becoming physically dangerous. We would have to hold her hand all day to prevent her from falling and injuring herself during a seizure. The surgery is called a Corpus Callosotomy where the connection to the right and left sides of the brain is cut to prevent the seizures from spreading through out the brain. It was a huge success! Two of the three seizure types have stopped. Her development has skyrocketed since she can finally complete her thoughts and retain information without a seizure constantly interrupting. This all happened immediately.

Her first meal after surgery, Kayden took the fork from the plate and put food right into her mouth. We had been working on that for months prior to surgery and she couldn't do it. She has continued to make amazing progress daily. It's as if she was reborn after the surgery and came out of the cloud. Her recovery has been absolutely amazing. Kayden continues to have several seizures daily but they are mild and not developmentally damaging. She receives weekly physical, developmental, occupational and speech therapy. Physically she is coming along very well. She is walking and almost running these days. She absolutely loves her gymnastics class when she gets to do somersaults, jumping on the trampoline and hanging from the rings.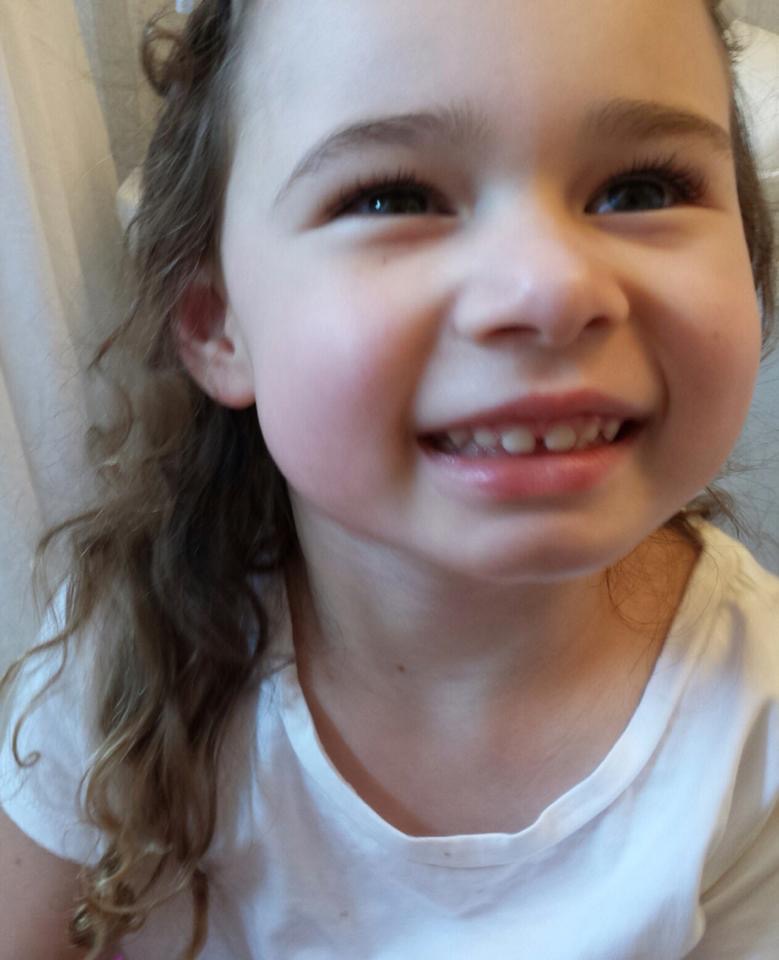 Speech and communication is what we are really working on. Kayden hasn't said any words yet but does babble every once in a while which is a known side effect of the medication. During the MEG test she had in December, we were told her speech pathways are excellent and she may have an auditory processing issue. She has done well with following one step directions with physical and verbal cues. We are continually amazed at her strength and determination. Kayden goes to school every weekday and is doing fantastic! She is learning, playing with her peers and following directions. Her tonic seizures stopped in October 2014 and she starting making noises again. We are hoping these may turn to words some day soon as we continue to try different medications in hopes that she will be seizure free one day."

The LeBonheur Neuro Unit is such an amazing part of a wonderful institution, dedicated to the health and well-being of children. They are tremendously supportive medically, but also emotionally. They have the resources to be leaders in children's medicine, but also offer the compassion and support to treat each child as their own. As parents, they help get Jason and I though every day, knowing we are not alone in this struggle with our daughter.

Don't forget to follow us
on social media:
Email


Funds raised
in 2016:

$30,000


Funds raised
to date since 2010:

$114,000
If you can't make it to the tournament or the 5K this year, you can still make a donation through PayPal!
Click below to donate!